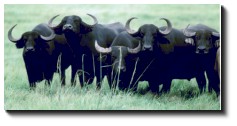 Products:
In this country water buffalo are used for:
Meat

Milk

Draft

Leather

Horn
Also breed improvement through genetic selection:
Proper Nutrition

Management
Meat:
Depending on pasture conditions, the water buffalo can attain as much as 500 kg live weight at 2 years of age. Young intact males or steers are grown for its purpose. This animals produce a greater profit productivity and a greater value from the herd.
Meat is very tasty, very much like beef but:
56% lower in cholesterol
25% less saturated fat
Milk:

Milk is high in butter fat. True mozzarella cheese is made from water buffalo milk. The River type are milked in Italy, Asia, South America, and the Balkans. We have been milking since August of 1994. Our milk was used to produce the only fresh made Mozzarella cheese in the U.S. Now, milking is progressing in Southern, CA.
Leather & Horn:
Hides make a very strong, smooth leather and the horns are in demand.
Strategic:
A animal of strategic importance for much of the World.
Compared to Beef:
12 % less fat

55% less Calories

40 % less cholesterol

11-30% More Protein

10% More Minerals